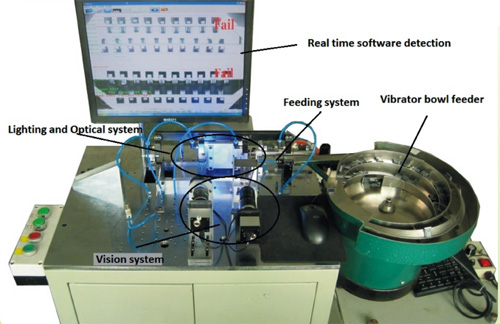 Benefits of Flexible Part Feeding
Integrators who manufacture assembly automation and OEM's who need equipment to manufacture assemblies are faced with a very large challenge of how to get the parts into the assembly machines for the assembly process, minimize workcell requirements, and keep costs down. Whether there is a need to increase productivity, reduce costs or add product variants, flexible part feeding systems are well suited to improve applications that have complex parts and sustain frequent part changes. Applications include small parts assembly (mechanical and electrical), material handling, and packaging.
Traditional Part Feeding Processes
Feeding parts into an assembly process is traditionally done using a variety of methods. Some parts are presented scattered in multiple orientations in boxes or in bins, and can be heavy or awkward to lift, position, and orientate into a workcell. In other processes, parts are fed using feeders such as vibratory bowl feeders, gravity fed part tubes, as stacked or fixtured material, by being manually loaded onto kitted pallets, and by using dedicated tooling. These methods can cause high costs, large floor space requirements, be unflexible, and difficult to maintain. It can also be a challenge to ensure parts enter the assembly process undamaged, in the correct orientation, and in the most cost effective manner. The detailed and cumbersome processes used in these traditional methods can cause extensive waste and prove inefficient over time.
In many traditional part feeding processes, manual operations are required when feeding parts from one point to another. Many times these parts are difficult to move by hand because of their size or shape. They can cause significant downtime due to varying factors such as complex workcells, mistakes, or injuries. Lower yields can occur due to human error in cases where the wrong parts are placed into a station, which can lead to damaged tooling. The more parts are handled and fixtured, the more chance there is to damage the part before the assembly process. The labor to install, integrate and maintain dedicated tooling can also be expensive.
Space is also limited in an assembly workcell, and consolidating the number of assembly steps performed without altering workcell footprint can be cost effective. For traditional part feeding processing, adding multiple operations to one workcell can lead to costly tooling, and a complex and congested assembly workspace. This can result in longer downtime and difficult repairs if there are any issues. Quality suffers when it isn't easy to refine a process or adjust parameters that cannot be discretely controlled. Flexible Part Feeding solves these process issues effectively and efficiently.
Benefits of Flexible Part Feeding Over Traditional Part Feeding Methods
Traditional Part Feeding Flexible Part Feeding
Processes distributed to multiple workcells Consolidated processes — same workcell footprint
Fixtured parts Randomly placed parts with no costly fixtures
Frequent costly part changes Using vision allows for simple/minimal cost part changes
High cost manual or fixed tooling for part feeding Low cost automatic part feeding
Multiple part orientations presented in boxes or bins can be difficult to handle Using vision, the robot can find parts in any orientation
Heavy/awkward parts Robots can handle parts easily
Flexible Part Feeding is right for
Loading machine tools as part of unattended operations
Feeding parts into an assembly line
Picking and packing food from a moving conveyor
Picking parts from boxes/bins as part of an assembly operation
Sorting easily tangled items
Consumer electronics and small part assembly
Commercial goods
Other applications can include:
Medical device assembly
Cosmetic kitting
Solar wafer handling
Pharmaceuticals
Battery manufacturing
www.hldmachine.com
---
<< Previous[
Integration of Robotics in All Manufacturing Industries
]
Next >>[
A numerical 2D simulation of part motion in vibratory bowl feeders by discrete element method
]